Sizzlin' Hot Summer Tour – El Paso
The team arrived in El Paso ready to shred! Shout outs to Crooks Skate Shop for hosting the AZ Skate Team. In 48 hours the crew hit up tons of spots and put on a demo at the Crooks indoor park.
Check out the action on Transworld Skateboarding!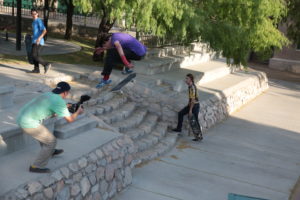 Tags:
2016 Summer Tour
,
Arizona Skate Team
,
Blair Alley
,
Boner
,
Bonestalone
,
Brandon Bonner
,
Cmart
,
Jose David Velez
,
JZ Radical
,
sizzlin hot summer tour
,
Spencer Prati
,
Tal Cual
,
Transworld Skateboarding
,
TWS CUT