Bonestalone gets buck in Long Beach @ Agenda
Brandon "Bonestalone" Bonner flew out to California to participate in the Transworld x AriZona x Weed Maps Best Trick Contest @ Agenda January 5th & 6th.
After winning cash throughout the two hour session at the convention center  for crushin' multiple tricks off the Josh Kalis style bump to trash can a long ollie contest began. After several ollies the trash can eventually made it nearly 20 feet from the bump! Tampa Am's latest champ Deshawn Jordan and Bonestalone were the final two skaters remaining, Blair Alley from TWS crowned both skaters "the long ollie champs" and handed them their respected loot.
Check out the photos and footy on TWS.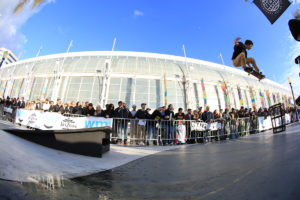 Photo: Cmart
Tags:
agenda
,
Arizona Skate Team
,
best trick contest
,
Boner
,
Bonestalone
,
Brandon Bonner
,
Cmart
,
Transworld Skateboarding
,
weed maps